Get to know your favorite shirt better by getting to know the fibers.Cotton Fabricandcotton fabric
It's time for shopping optimization. Normally, we tend to choose clothes from tailoring. Colors and styles suitable for each occasion. But nowadays, the trend of wearing clothes adds even more details. because there is a trend to save the world save the environment The production of fast fashion clothing is becoming a huge question. causing consumers to change their behavior as well Therefore, shopping for clothes focuses more on the materials used to make clothes.
natural fibers like fiberCotton FabricOr linen is back to be more popular nowadays. Because it is friendly to nature and the wearer. But the most popular fiber is seen to be cotton. Because cotton has been popular in the fashion industry for a long time. But it is often popular to mix cotton with other types of synthetic fibers. In order to reduce the cost of fabric production and increase the sewing capacity, so we often hear fabrics in the market like cotton, cotton, linen, polyester. Most of which are synthetic fabrics mixed with natural fibers. Until some people may be confused that What is the difference between cotton and cotton? Because at that time means cotton What about cotton and cotton? What's the difference?
Cotton is a term often used for a cotton/polyester blend. which are often mixed in different proportions according to the softness or smoothness of the fabric that you want to use appropriately Most of which are often used to cut into different types of T-shirts becauseCotton FabricIt has the ability to absorb sweat and ventilate well. And polyester is easy to wash and easy to iron. Cotton fabric is easy to wear and can be found in the market. There are 2 types of cotton, TC and CVC, differing in the proportion of the two types of fibers.
while the so-called clothCotton FabricIt is a fabric made from natural cotton fibers 100%, which yarns are woven from cotton fluff and woven into clothes for wearing. Natural fibers are light and comfortable. But there may be a higher price in the market because the production of cotton fibers has been taking a long time. So it can be easily summarized as follows.
1. Cotton Fabricwithcotton fabrichas the same meaning But different words called according to the manufacturer's invention.
2. Cotton is a natural fiber from the cotton plant 100%. While cotton may be mixed with synthetic leaves. such as polyester to get a shirt that is highly flexible and wrinkle-resistant
3. Natural cotton is light. comfortable to wear But it's easily wrinkled and doesn't form. While cotton fabrics are easier to style because they contain synthetic fibers.
In the past, cotton was therefore popular among certain groups of customers. But nowadays, cotton is becoming more and more popular. due to the lightness of the fabric Good heat dissipation and fabric details that make the wearer look like a nature lover and save the world as well.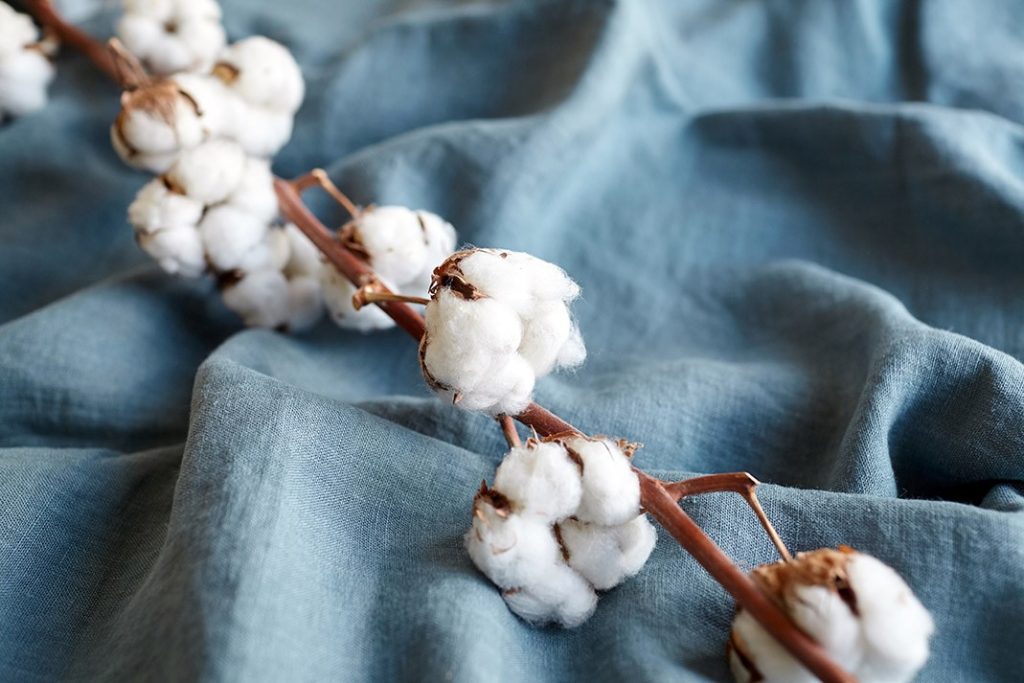 understandCotton FabricMore and you will love your clothes even more.
Cotton FabricNature has more properties than you ever knew. Because natural fibers are delicate and light. Better suited to human skin than synthetic fibers. Cotton is said to have thinner fibers than silk or linen. It is also highly flexible. Therefore, it is suitable for making clothes that can be worn in everyday life. with good heat dissipation properties At the same time, cotton may also have some drawbacks, as the fibers are quite good at absorbing water and hygroscopic. and because of the thin fibers of cotton thus causing the cotton fabric to wrinkle easily People who like neat clothes may not like it.
At the same time, the consumer market is vast and has a wide range of customers. Cotton FabricIt is very popular among Generation Y who like nature. Simple earth tones but comfortable Cotton is therefore more popular nowadays. Disadvantages like being difficult to hold and easily wrinkled turned into charm. Plus, cotton doesn't have to be complicated to iron. It's a mess that has its own style that has it all. In addition, natural fibers have been added and are part of reducing the production capacity in the industry as well.
One more thing to look back on the manufacturer. Cotton fields or cotton spinning technology has been around since ancient times. Therefore, there are many cotton brands that return to the same production methods as hand-made.Cotton FabricHand-woven, soft and unique in each piece of clothing. Makes buying natural fiber clothes more interesting than ever and also gives the image of handcrafted products that look good and classy as well.
not just clothes but nowadaysCotton Fabricalso widely used in other industries Whether it's furniture bedroom window curtains Cotton bag for traveling or going to school. food table cloth reading table in the room that makes your room change the style to the eye Cotton creates a more natural atmosphere. Makes me feel calm in a busy world that has it all. Going back to using natural fibers in everyday life is one of the popular choices because it not only creates happiness for consumers but also means making good choices. to the world as well Whether it's taking photos on Instagram or tiktok, they look chicer than ever. Just choose to usenatural cottonin your daily life